Thursday, June 30, 2005
Tuesday, June 28, 2005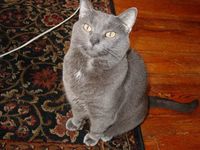 From the Studebakers of Baltimore: Dear Friends of Beez,
I have sad news, Beez passed away today. As you already know, he was in end stage renal failure.
Due to the advance of his condition the toxins in his blood reached such a high level that he became
extremely ill and could no longer tolerate food. To attempt IV fluid treatment would have put additional
strain on his system. This afternoon John and I made the decision to let him go. We know he is at peace
now and no longer suffering.
Janet

Monday, June 27, 2005
::guimp:: world's smallest website
Wednesday, June 22, 2005
Fellow Alumni Does Well!
graffiti archaeology
Tuesday, June 21, 2005
An update on the Randolph County Courthouse
Monday, June 20, 2005
Thursday, June 16, 2005
Gold Bond - Testimonials! Gold Bond Anti-Eechy Medication
The Oakland Beat
Wednesday, June 15, 2005
Andrew Bird whistling!
Anderson: Behrens Paints Old Sign
Schiavo Autopsy: Brain Had Irreversible Damage
Tuesday, June 14, 2005
Gene's Root Beer
Interesting and Depressing Site!
Saturday, June 11, 2005
Grisly Effect of One Drug: 'Meth Mouth' - New York Times
Friday, June 10, 2005
Gene's Root Beer - Luke's Root Beer Pages
USA Yesterday (Old sites around the USA)
Yuki Sushi Bar opens north of Greenwood
Thursday, June 09, 2005
Wednesday, June 08, 2005
Thursday, June 02, 2005
Indy 500 Number 89, May 29, 2005
Coker