Tuesday, June 28, 2005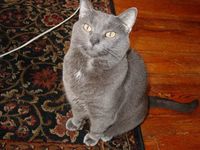 From the Studebakers of Baltimore: Dear Friends of Beez,
I have sad news, Beez passed away today. As you already know, he was in end stage renal failure.
Due to the advance of his condition the toxins in his blood reached such a high level that he became
extremely ill and could no longer tolerate food. To attempt IV fluid treatment would have put additional
strain on his system. This afternoon John and I made the decision to let him go. We know he is at peace
now and no longer suffering.
Janet